Hey everyone. Ofcourse i did read Hellbound Rules before making a Apply

,
Well here is me Apply for Hellbound i hope this is good, if there any questions missing just ask me
Introduction to youself
Name? : Sajant
age? : 16 years old , 27-01-2013 i wil be 17 years old
Gender? : Men
Country? : The Netherlands
IGN? : ChaosxSin
Char lvl? : Lv. 181
Base HP/MP? : 6.5k hp & 4.5k mp
10.6K hp with %hp stuff & HB bottom
Att Range? : The range with self buff (mw30) is 35k
Usual playing hours? : Monday to Friday I play 3 hours a day, and Saturday and Sunday 7 hours a day if I have time
Tell us about you as a person.
Hey everyone. Well my name is Sajant. I am someone likes to help<3. And I am 16 years and 27 January 2013 I will be 17. And i love to go social also i love to keep contact<3. I living in the Netherlands (South Holland ), I'm half Tamil and half dutch and I play MapleStory approximately 3 years. Monday to Friday I play 3 hours a day and 7 hours on Saturday and Sunday. when I have time. I go to high school and I am very smart,I like to play maple, hang out with friends outside, I sometimes get much homework if I have much homework I'm not online on MapleStory. But every day I try to do my homework quickly and effectively as possible. Because I want to train on maplestory or anything else. I'm on a soccer sport it is a fun sport and it's a team sport and I like it. I train three times a week with football, so I'm very active in real life, but also on MapleStory .. We have two computers, a WinXP and Win7 and I play MapleStory on WinXP ... Since Win7 is not working and I have three brothers. My brothers do not play MapleStory, because they do not like, but one of my brothers is sometimes online but not often, he is 50% stopped because it was boring, but I like it and I try come every day on Maplestory
sorry boys me English is not my first languague so it's not perfect, but I try my best!
but I will learning with my parents, friends, school,brother and maple and more.
Greetings, -Sajant
how do i make mesos?
I make my mesos. with Scarlion runs. Merching, boss drops
Previous guild?
Timelesss,Elements,Oddysey,Eave
Reasons for leaving?
Timelesss : Left because a lot of spammers in chat ,
a Childish guild,
it was inactive and some members started to scam, but Timelesss the guild is gone
Elements & Oddysey is a dead guild,Inactive.
1 year ago I made an apply for Eave ​it was good
I was accepted but I got kick in the Trial-Period
because I was not mature enough and I was too young for the guild.
but I've changed.
Are you still in your old guild?
No, at the moment I'm in no guild
All past and present maplestory character?
ChaosxSin (Lvl 181 Night Lord), have only one acc. I learned from my friend, he helps me<3
Reasons behind the inactivity?
if I have too much homework or when I'm outside
Operating System used when playing?
Windows XP
My favourite music.movies?
For movies : I like horror,Actie
Music: I like Rap,Dance,Pop,Dupstep,rock etc.
I love music<3
What's your goals in Ems?
try level 190+, have fun, meet friends, and try to solo all the boss and merch for good stuff
(%luk)
Also i want to get good social contacts on maple and see how far they can get.
i also did some Boss runs ofcourse but still i want to do more.
Big Bosses I have done:
Zakum,Big boss,Horned Tail,Bodyguards,
Detailed reasons as to why you wish to join HB?
I want to join Hellbound because i really love the people, i want to meet because i am interested in them, I also want to mean something for the guild myself, i would be happy to join any kind of Guild run or have some fun , I am looking for an active guild with active people. This seems the right place. The main reason could be that I want a guild with nice and friendly people, I also would like to run with the guild, party quests I know some people because I've spoken to some people of the guild Hellbound. I took the time to find the right guild for me and i think that's Hellbound and no Classic/Aeon etc. , i think its just not for me.
one thing I will never leave Hellbound!
I got respect for everyone! <3
I see members respecting each other! <3
Do you know any one in HellBound?
At this time. I do not know many people from hellbound
I will often go to the guild fm
and talk to people <3
I did long ago many Zakum runs with Krexel (Pete) & leader of TheEndclave
I sometimes talk with xbloodrainx (Ro) & NobleBlack (Jojo) & Kous (Kousuke) in Dutch fm
& talked a litte bit with MikaMisuky and Aerography.
And talked with Fuzzyou (Adrian) & Sean in Hellbound fm.
I've never hacked or scammed.
If anyone has further questions just ask me
every questions is welcome<3
[left]

Guest

Guest





Right...
Here is a comparions of your apps (just a part of it)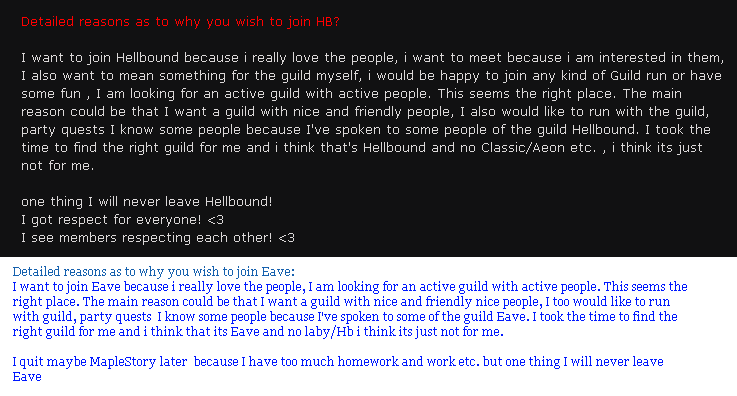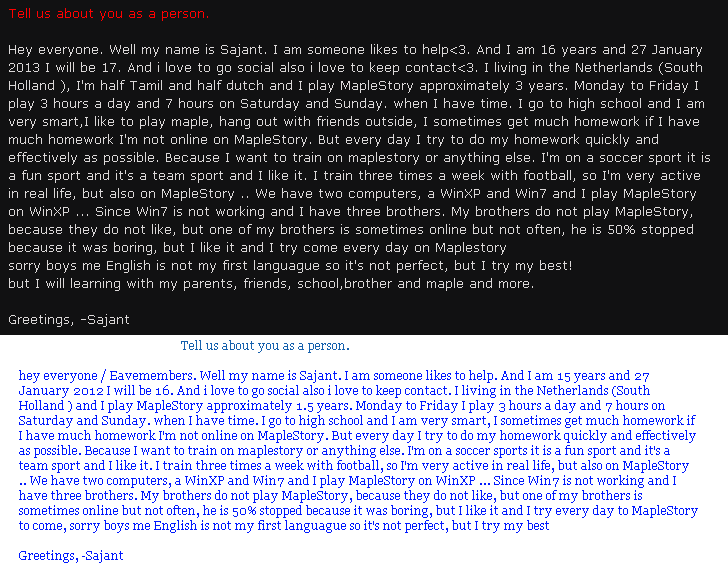 Now, I'm not really a fan of recycling app's, so it will be a no. Pretty much shows that you haven't really put any effort to it.
__________________________
[9:39:51 PM] Stéphy: ur a really pain in the ass sometimes

me and steph had a discussion about soap and anime, we came to the conclusion that anime was for kids and soap was for dumb people
[1:15:09 AM] Stéphy: a world war 3 between soap& anime

[1:15:18 AM] Stéphy: who's gonna win
[1:15:24 AM] Stéphy: stupid because others are kids
[1:15:30 AM] Stéphy: or the kids because the others are stupid
[1:15:32 AM] Stéphy: mhmmm
[1:15:55 AM] Stéphy: i will scratch my ass or a sec

Kriss/Departures

Silver





Posts

: 425


Guild

: HellBound


Joined Guild

: sept 2011


Location

: Norway



I am a bit disappointed in the apply recycling(just like Kriss)

However I know that you are a good person, because you were one of my friends in the past (I dont know if you still know me)

I want to see some more effort in the apply just like Kriss. Therefore I will hold my vote for now

Regards,

Kousuke
__________________________
Click this awesome youtube channel!

Kousuke

Biohazard





Posts

: 788


Guild

: Logia


Joined Guild

: July


Location

: Jupiter



hmmm something doesnt feel right after reading your app but i can't place my finger on it.

what kriss found is frustrating because it shows you lack originality in creating a new app.

Also you say you were kicked from Eave because you were immature. HellBound has one of the oldest gaming communities in ems (most people here are 20+) not sure if you will fit in.

gonna vote no for now.
__________________________
Lv. 207 Mercedes


BlazeHermit

DMG ho




HellBound Jr Master

---

Veteran

---

Posts

: 3509


Guild

: HellBound


Joined Guild

: September 2010


Location

: North Yorkshire



No effort at all almost
Why would we want someone who didn't even lift a finger to join us?
I'd suggest to remake your apply.
__________________________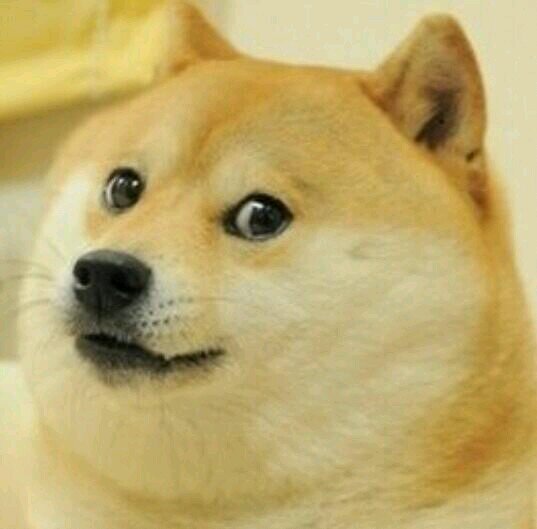 Wow

HoliArcher

#Yolo #Swag




Veteran

---

Posts

: 1379


Guild

: Hellbound (ex euph)


Joined Guild

: early 2012


Location

: Sweden



No thanks
__________________________

protosser

Sonic The Hedgehog




Veteran

---

Posts

: 1022


Guild

: Hellbound


Joined Guild

: 2009


Location

: Nottingham



As much as I appreciate your application to our guild we do frown upon copy & pastes. It shows you put little to no effort in your application to us and 99% of the time people who copy & paste generally apply for multiple guilds at once.

I do understand re-using applications because It can be tiresome writing one out, but I prefer effort to be put in to an application because then I can see that you are serious about joining and will be loyal to the guild.
Last edited by GhoulScout on Wed Oct 31, 2012 7:20 pm; edited 1 time in total
__________________________
I might have an idea for you. What about completely deleting this current application's text and re-write it here. If you do that it will show that you're atleast more serious about this than most people think of you now.

Please leave a message saying you'd like to do that or not.

Thanks in advance ~
__________________________

MikaMisuky

Silver




Veteran

---

Posts

: 403


Guild

: Haha, still none!


Location

: Netherlands



heey everyone, I am very sorry for copying the app from Eave site.
I am very sorry for everyone that read this app. And Thx for the votes. Kous ofcourse I know you! Blazehermit I know that many people in hellbound are 20+, But I have changed and become mature and talk mature. sorry guys!!,But I gonna re-apply for Hellbound but not now. and I make him serious and focus everything!

I'm very sorry.

PS: happy halloween everyone!~

Guest

Guest





Since you'll re-apply in a later time:

locked
__________________________


Too old to die young

Evanmidnight

I'm a perv




HellBound Jr Master

---

Veteran

---

---

Posts

: 1003


Guild

: Hellbound


Location

: Emo-Corner



Similar topics
---
Permissions in this forum:
You
cannot
reply to topics in this forum